Airport Parking Network Event 8th edition
Begin: November 21, 2016
End: November 22, 2016
The 8th edition of the Airport Parking Network Event was held at Amsterdam Airport Schiphol. We would like to thank Schiphol Group for co-hosting this great event! The diverse experiences and concerns shared in the discussions and the workshops helped enrich our collective experience on airport parking. The evening program included a canal cruise around Amsterdam, which led us to the Amsterdam Museum. Here we had a tour through the "100 years of Schiphol" exhibition. The evening was concluded with a walking dinner, live music, and drinks.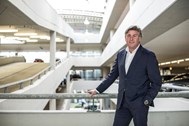 Co-host
Dieme Ketel
Sr. Manager Parking & Mobility Services
Amsterdam Airport Schiphol is delighted to host the 8th Airport Parking Network Event, which will be held on November 21-22, 2016. Schiphol celebrates its 100th anniversary this year, which makes it a very special time for us.

Amsterdam Airport Schiphol
Evert v/d Beekstraat 202
1118 CP Schiphol
Netherlands

Website: http://www.schiphol.nl
Back to previous editions