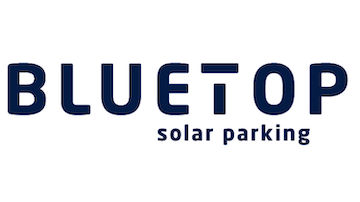 Solar Parking – Green Revenue!
By utilizing existing parking areas for a solar carport system, you can increase your parking revenue - save electricity costs - improve customer experience – and take your own steps towards a greener world with a blue sky…
+++
Development of mechanical technology combined with falling costs of solar modules have turned commercial solar carports into a competitive source of energy.
In this way you provide your customers and their cars benefits from shading and protection against rain and snow. The comfort can easily be combined with integrated accessories to enhance the value for the customer: LED, e-mobility chargers, parking sensors, security surveillance.
Those benefits can now all be wrapped into a frame of timeless design.
Bluetop Solar Parking transforms your open parking areas into a green concept, that strengthens your business.
The investment is slightly above average solar roof installations, but the business case is much more interesting… airports can reach a pay back time below 5 years and if you choose a financed solution you have the possibility to let the savings and income cover your repayments from the beginning of the lifetime. Meet us at the workshop and see how !
About Bluetop Solar Parking
Bluetop specialises in development and production of solar carport systems. The common denominators are aesthetic, good craftsmanship and eco-friendly solutions.
Our philosophy is dedication to conceptualize and innovate continuously. That is the reason why we are able to integrate and partly hide all applications into our carports.
We strongly believe in a future with global use of much more building integrated photovoltaic and other sustainable energy sources. By combining functions owners get enhanced reasons to be part of a great global development.