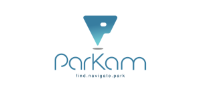 Revolutionary Customer Experience in Airport Parking – Camera-Based
Finding a parking spot in the airport may be a stressful experience for the passenger. Using advanced image processing technologies, this long search is about to be over, as the existing security cameras can be used to detect available parking spot and navigate the user directly to the nearest spot using a special app.
About ParKam
ParKam was formed to resolve the worldwide problem of finding reliable parking on the go. It is known that 30% of inner-city traffic is created by people who are looking for available parking spots.
On the other side of the spectrum, parking lots lose customers and money as finding parking is still an exhausting and frustrating process. In addition, parking lots are losing money as they lack the data to utilize maximum capacity and rely on unnecessary manpower
Our unique, innovative solution is based on Real Time Computer vision. To find the best available parking spot we use our innovative proprietary algorithms which process footage from cameras that are already installed or will be installed by ParKam where necessary. Unlike other solutions, we only need one simple camera for up to 100 parking spots.
From the same streaming we also operate a state of the art enforcement system.