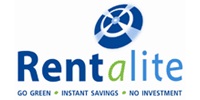 More profit, without investment, bright sunstainable savings!
One of our best clients saves 7 million euro per year with 200 parking garages and makes 3 million more profit, without any investment. They are sharing the annual savings with us on energy- and service costs! The steps are easy, conventional fluorescent lamps are changed (without investment, only the installation cost) for our Premium Power LED, this saves 65-85% on energy and service per year (24hrs/365 days). The Premium power LEDs have the light and robust fixture in one, and have a long life warranty, because every six years, we send out new power LED strips, with our latest light technology for the next 6 years. So no investment, a huge saving, more profit and no risk, with a beautiful, safe and clean light display.

Please visit our website www.rentalite.com, and ask for a free ''seeing is believing'' 6 week trial package!!