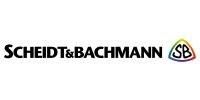 The New Airport Parking Landscape - How Digitalization Generates New Opportunities
Today's airport parking ecosystems include a vast variety of different applications and solutions. While providing a seamless customer experience future, Parking Management Systems need to protect the operator's revenues and interconnect available solutions in the most beneficial way.
This interactive workshops will demonstrate implemented solutions for:
ANPR technology as a convenience factor and a revenue driver
Frequent parker solutions, including pay as you go schemes
EV charging and associated payment schemes
Dynamic pricing
Other beneficial interactions with sub-systems
Scheidt & Bachmann invites you to this interactive workshop where your feedback and input will be highly appreciated!