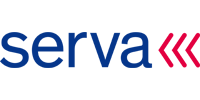 Serva
Serva Transport Systems GmbH produces an automated parking system which increases the parking capacity in garages by up to 60%. Customers drop their cars in comfortable, bright and secure transfer stations at the entrance. From here robot RAY™ takes over.
With Serva, customers park right at their destination. The system can be planned in new buildings as well as retrofitted in existing structures. For almost a year now, customers at Duesseldorf Airport (DUS) park their cars with RAY™ successfully. Mostly frequent travelers use the service to park right at the terminal without the tedious search for a parking spot.
On the other hand, the car park operator benefits from 40% additional parking spots in a prime location. Since early 2015 RAY™ is also in operation at the AUDI factory in Ingolstadt. Here, RAY™ takes over the finished cars at the end of the production line and parks them completely automated. 
Address 
Renkenweg 3
83026 Rosenheim, Germany
Telephone +49 8031 2728870
Fax +49 8031 2728772
Contact person
Thomas Nagel             
Sales Manager
tn@serva-ts.com