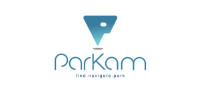 ParKam
ParKam offers a holistic solution for all the airport's parking needs, based on CCTV cameras. Our efficient and affordable solution utilizes the existing security cameras or can be easily implemented by installing new simple cameras, with each camera covering up to 100 parking spaces.
We offer the passenger our navigation app that will guide him directly to the available parking spot nearest his gate/terminal, also indicating shuttle bus stops and drop off zones. Our computer vision system analyzes the traffic and navigates the user into the spot that will remain available by the time he arrives there. Upon his return, we offer the passenger navigation back to the car by the app. Parking availability can also be displayed on VMS signs.
Airport parking management enjoys our BI tool presenting real-time occupancy data, heat maps and historic data graphs and reports. Airport security officers also receive alerts on illegal parking such as overtime parking in the drop off area and double parking.
Address
Pinsker Street 44
Tel Aviv
3614617
Israel
Telephone
+31 611 60 62 57
Contact Person
Peter Dingemans
Director of Business Development