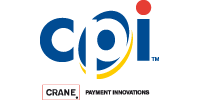 CPI- Crane Payment Innovations
Crane Payment Innovations is built upon the technical heritage and market expertise of our famous brands CashCode, Conlux, MEI, Money Controls, NRI and Telequip.
Payment solutions in the transport and parking market must be reliable and easy to use, but beyond that, the requirements will always depend on the locality and the specific application. Only a supplier with the widest range of technologies and expertise can hope to offer a solution fit for every scenario and in every corner of the globe. As the world's leading provider of payment technology, CPI offers the most comprehensive portfolio of payment solutions in the transport and parking industry. Customers can be confident that our solutions are robust and efficient, and that they will deliver the ROI that makes a big difference to business.
Address
Chemin Pont Du Centenaire 109
CH-1228 Plan Les Ouates
Geneva
Switzerland
Telephone +41 22 884 0540
Fax  +41 22 884 05 04
E-mail transport@cranepi.com
Contact person
Andrew McArdle Booker               
Marketing Manager               
Andrew.mcardlebooker@cranepi.com