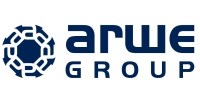 arwe group
arwe group has been operating as a service company in vehicle valeting, maintenance and logistics for more than 45 years. We provide custom-designed system solutions for car manufacturers and dealers as well as for car rental companies, leasing companies, and car sharing providers.
We give labor-intensive technical and logistical processes a competitive edge for our customers in automotive services, car rental services, mobility services, and logistic services. Our company is considered a leader in innovation within the industry and is certified in accordance with DIN EN ISO 9001:2008. With 5,000 employees we are represented in more than 500 locations across Germany and Europe. arwe group owns patented rights on turnaround processes and technical devices within car rental centers.
We do not consider the services assigned to us as merely being an isolated individual process, but instead, we see ourselves as having the responsibility to complement these services with useful system solutions. These system solutions generate sustained added value for the customer within their valued-added chain.
Address
Terminalstraße Mitte 18
D-85356
München-Flughafen
Germany
Telephone
+49 89 90 900 10    
Contact Person
Donald Peschla
Head of Marketing, Strategy and Compliance